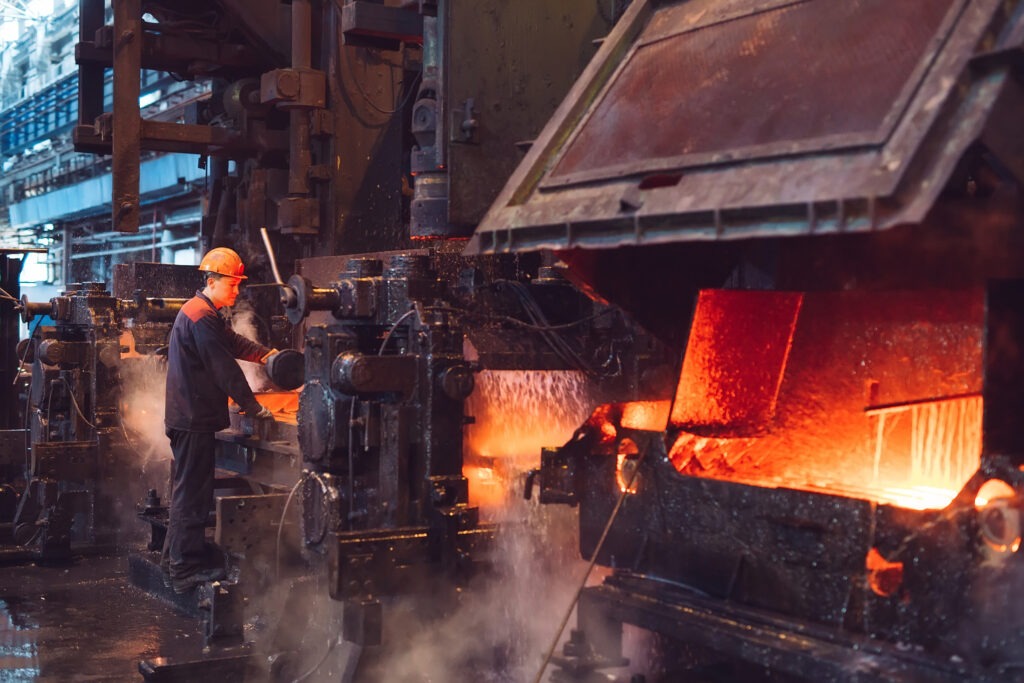 Introduction
This case study focuses on the experience of a renowned steel making company with international operations based in India. The company faced a regulatory compliance issue with worker safety at a steel plant in the United Kingdom. The plant needed an emergency mustering solution that integrated with an existing access control system that satisfied their regulatory compliance issue. 
Challenges
The steel plant is giant, totalling 21 square miles in size with over 4000 employees and running a 24 hour operation. Accounting for workers in an emergency evacuation posed unique challenges as a result of the sheer size of the plant, ever changing occupancy with so many employees, dangerous work areas, and many emergency evacuation assembly areas. This created a need for a flexible system that could quickly account for workers as safe in an emergency evacuation even if they evacuated to the wrong assembly area or if the assembly area needs to be moved. In addition and most importantly, ensure the safety of all workers and satisfy regulatory compliance requirements.
Solution
The steel plant had an existing AMAG Symmetry access control system and GBE Converge, the company's security integrator, recommended XPressEntry as a solution, citing many successful implementations at other customer facilities with Symmetry systems. XPressEntry is a certified AMAG partner and XPressEntry natively integrates with Symmetry access control systems. XPressEntry handheld badge and biometric readers met all of the steel plant's immediate needs. The system simplified and accelerated their comprehensive emergency mustering needs to enhance worker safety and satisfy their regulatory compliance requirements.
---
XPressEntry Server:  The XPressEntry server is the admin console for the XPressEntry system that manages all aspects of the XPressEntry system including enrollment, device and user management, live data feeds, reporting, and configuring connections to more than 30 access control systems. 
XPressEntry Handheld Badge & Biometric Readers:  The XPressEntry handheld readers help security and safety teams quickly muster employees during an emergency evacuation and maintain facility occupancy information. XPressEntry is an industry leading, emergency evacuation and employee mustering solution ensuring everyone is safely accounted for during a true emergency improving evacuations to meet safety and OSHA / regulatory compliance. 
---
The steel plant implemented fifty (50) XPressEntry handheld badge and biometric readers from Telaeris to fulfill these challenges.
---
Roll Call From Remote Locations – Depending on the size of the facility and number of personnel and visitors onsite, there can be many emergency evacuation sites. Providing security and essential emergency personnel with XPressEntry gives them the ability to quickly verify who is safe and accounted for at their specified mustering site or any other location on or off-site where people are found.
Live Tracking / Mobile Roster Lists – Even with emergency preparedness and regular evacuation drills, emergency evacuation plans will be broken in a real emergency situation. XPressEntry keeps a running tally of all personnel and visitors, their safety statuses, and keeps all handhelds at each evacuation point in sync. Accounting at one muster location will alert other locations that this person was accounted for and safe, even if it was not their specified evacuation site.
Real-Time Updates With Database – With so much going on in an emergency evacuation, keeping security and essential emergency personnel up to date with the latest information is critical when lives are at stake. XPressEntry handheld readers are constantly syncing all personnel and visitor activity, occupancy, and safe statuses with the existing access control system via cellular or WiFi connectivity.
Online / Offline Functionality – In the slim chance that both cellular and WiFi connectivity are lost, XPressEntry will continue to record all status updates and store them locally in offline mode to ensure that no personnel and visitor statuses are lost. Once cellular or WiFi connectivity has been restored, all recorded data will be automatically synced with the XPressEntry server and access control system keeping everyone and everything up to date.
Notify First Responders Who's Missing – When the first responders arrive onsite, providing timely information of missing persons can be a matter of life or death. Using XPressEntry, security or essential emergency personnel can provide first-responders the names, ID photos, and the last recorded locations of missing personnel or visitors onsite. This gives first responders the information they need to prioritize resources and focus in areas that can help save lives.
---
Benefits
XPressEntry handheld badge and biometric readers enhance AMAG Symmetry access control systems and deliver new convenience, flexibility, intelligence, and functionality to safety and security professionals never before possible.  
Integrates with most access control systems

Better physical security and personnel tracking

Simplified operations by removing manual work

Compliance with regulatory safety standards

Scalable and offline operation for any worksite

Reduces real risks and financial loss mitigation
---
Conclusion
After the implementation of XPressEntry, the steel plant satisfied their regulatory compliance issues, is able to run faster evacuation drills, and confidently prepared for a real emergency evacuation 24/7.
XPressEntry handheld badge and biometric readers proudly lead the industry with the most access control integrations and proudly lead the industry with the broadest support for badge technologies plus biometrics.
CONTACT US to learn how XPressEntry can improve your industrial facility.