XPressEntry Handheld Badge Verification
Get BETTER physical security, tremendous flexibility, and new functionality for safety and security professionals when you enhance your access control system with XPressEntry handheld badge readers.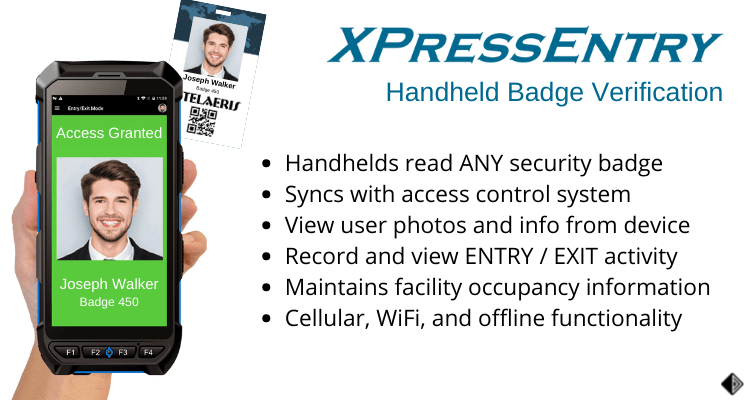 Safety and security professionals understand the important and time-consuming work of keeping the workplace safe and secure. Being that secured areas come in all different shapes and sizes from traditional offices to oil refineries and construction sites, it is a real challenge to secure these spaces. With the power of XPressEntry handheld badge readers, your safety and security personnel can secure and manage any workplace or space.
XPressEntry is the industry leading handheld, mobile solution for access control systems and reads most badge technologies. XPressEntry handheld badge readers quickly verify personnel and visitor badge information including name, photo ID, and permissions against the existing access control database. By maintaining continuously updated facility occupancy information, it allows your safety and security professionals to monitor where employees are at any time.  XPressEntry stays connected from anywhere with both cellular and WiFi connections, but in the case these aren't available, continues to work offline until data is available again.

Most likely your facility already has a physical access control system (PACS) and these world-class access control systems do an excellent job of determining who has access to the premises. However, there are many uses for your company badge beyond just getting in a door. Company shuttles, employee trainings, vehicle gates, temporary gates, employee checks by guards, events and more.  XPressEntry handheld devices make all of these possible – with no need to be tied to a wall.  PACS are limited by the static, physical placement of the badge readers onsite at the main entrance and other tracked entry / exit points. Why only secure the perimeter when XPressEntry can help improve security anywhere? Today more than ever, organizations have both ethical and legal responsibilities to take security seriously. Adding XPressEntry handheld badge readers can significantly improve safety and security.
Record and view entry / exit info

– Authenticate personnel and visitor credentials including badges, government IDs, facial recognition, fingerprints, and iris scanning from anywhere. View real-time entry and exit activity of all users throughout complex facilities. Even enroll new personnel and visitors into the access control database from anywhere keeping a complete and accurate count of everyone onsite.

Real-time updates with database

– With so much going on with daily operations, keeping security and essential emergency personnel up to date with the latest information is critical for site security. XPressEntry handheld readers are constantly syncing all personnel and visitor activity, occupancy, and safe statuses with the existing physical access control system (PACS) via cellular or WiFi connectivity.

Offline entry/exit recording

– In the slim chance that both cellular and WiFi connectivity are lost, XPressEntry will continue to record all occupancy statuses and store them locally in offline mode to ensure that no personnel and visitor statuses are lost. Once cellular or WiFi connectivity has been restored, all recorded data will be automatically synced with the XPressEntry server and physical access control system (PACS) keeping everyone and everything up to date.

Rugged handheld readers

– XPressEntry offers the XPID Series handheld badge readers with many different options for different business applications. The XPID200 PDA is held like a cell phone in the palm of your hand while the XPID201 GUN has a handle and is held like a pistol. Both handheld readers are dust, heavy rain, and snow resistant and are rated to survive multiple drops from 1.5 meters.

Ubiquitous badge reading capability

– Future proof your complete access control solution while supporting legacy systems at the same time. XPressEntry handhelds proudly read more badge technologies than any other handheld in the industry including SEOS, iClass, Prox, Casi, Indala, Mifare, PIV, and DESFire EV2 and can simultaneously poll for both HF and LF credentials. XPressEntry handheld readers offers the greatest flexibility and compatibility for current and future physical access control systems (PACS).

Certified security system integration

– XPressEntry integrates natively and has been certified with more than 30 industry leading physical access control systems (PACS) such as Software House, LenelS2, Honeywell, Genetec, Identiv, AMAG, Keyscan, RS2, Galaxy, Open Options, IDenticard, and many more. Don't see your PACS on this list? To view a full list of completed integrations, visit our XPressEntry integrations page.

Continuous Software Improvements

– XPressEntry receives regular software updates with security enhancements and grows in functionality from the XPressEntry server. In addition, the server delivers device management and can assign specific emergency mustering, access control, and/or event modes to each individual XPressEntry handheld reader. Users can switch between modes directly on the handheld reader if multiple modes are granted to meet specific business needs.

Robust Software Security

– Keeping up with the latest cybersecurity practices is mission critical at Telaeris. XPressEntry is penetration test certified by RSI Security as secure against external threats with appropriate security protocols and encryption. End-to-end encryption is provided between XPressEntry handheld readers and server communication utilizing TLS 1.2 secure protocols. All other data stored on the XPressEntry handheld readers are U.S. government grade AES256 encrypted.

Expert technical support

– XPressEntry technical support engineers are product experts and the same people who maintain and build new enhancements into XPressEntry. In other words, you can expect excellent and friendly technical support from knowledgeable representatives who provide quick responses. No matter the question or issue, Telaeris is happy to help and make sure you always remain a satisfied customer.
Don't have a physical access control system (PACS) system onsite? No problem. XPressEntry also works as a stand-alone solution, fully managed by the XPressEntry Server. XPressEntry handheld readers validate permissions and authenticate credentials or biometrics against the identity information on record in the access control system database or XPressEntry Server from anywhere, record entries and exits where door readers are not practical or available, challenge credentials from within secured spaces, spot check permissions to deter tailgating / piggybacking, quickly muster employees during an emergency evacuation, maintain facility occupancy information, and much more.
XPressEntry handheld readers proudly lead the industry with the most access control integrations and proudly lead the industry with the broadest support for badge technologies plus biometrics.