Employee Verification from a Remote Airport Tarmac XPressEntry provides a simple solution to a significant problem.
Problem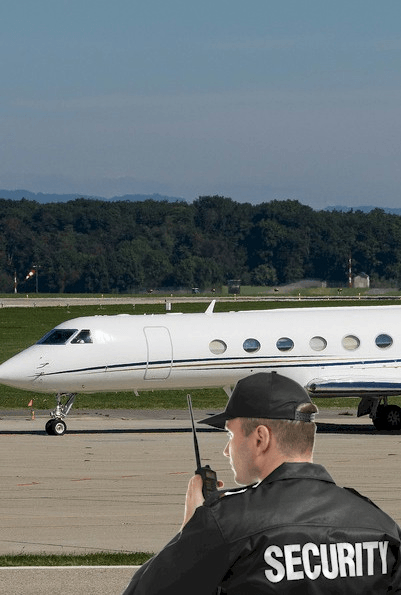 With hundreds of employees arriving by jet daily, manually verifying each employee on the airport tarmac by calling the security office was painful.
Operating one of the largest refineries in Canada, this customer's facility is equipped with a fully functioning private airport. Every day, multiple planes land on the tarmac with up to 100 passengers per flight. As the passengers disembark, the identity and access privilege of each person on the plane must be verified by the security guard, before they are allowed onsite.
With their original solution, after each plane landed, a security guard was on the tarmac waiting for them, radio in hand. As each individual got off the plane, the guard would verify the image on the badge and make a call to the security office to verify the user. At the security office, someone monitoring their system would manually look up the user in their CCURE 9000 system and tell them if the badge number was for an active employee who had clearance.
The process was tedious and wasted hours of time every day for both the guards and passengers.
Solution and Results:
Realizing their existing solution's inefficiency, our client decided they needed a way to authenticate users on the tarmac. Something that would work as simply as a door badge scanner, but built into a handheld device. After doing some research they found Telaeris' XPressEntry handheld access control solution.
Telaeris integrated XPressEntry with the client's existing CCURE 9000 system and provided a solution that allowed guards to perform badge verification without any need to contact the security office.
Now, security personnel scan employee badges where it is most convenient – the airport tarmac or even on board the jet. They immediately see whether access is granted on the screen of the device, with an image of the badge holder. Better yet, security monitoring the backend CCURE 9000 system can see immediately when employees are scanned. XPressEntry has significantly decreased the time needed to verify badge holders at the tarmac. Security guards are more effective and employees are able to get to their jobs more quickly. Overall, the new process is quick, easy and most importantly, provides better security.
For more information on remote employee verification with XPressEntry, please call Telaeris at 858-627-9700 or email [email protected]