XPressEntry XPIR Fixed & Kiosk Readers
XPIR Fixed & Kiosk Readers
Intelligent fixed and kiosk ID readers to secure any workplace entrance.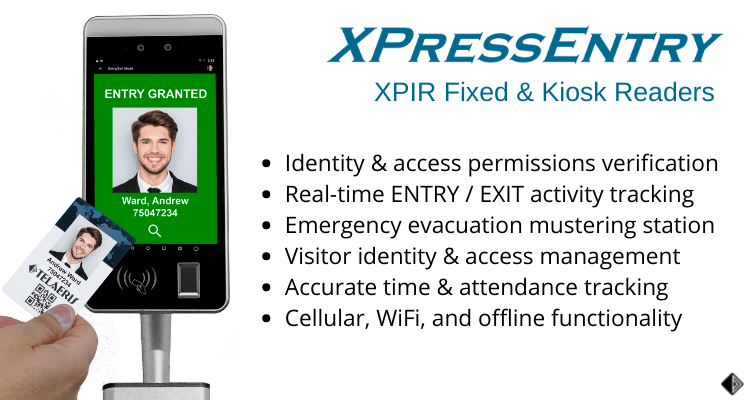 The workplace comes in all different shapes and sizes and with different physical security needs. Traditional door readers have been the industry standard for many years and the commonly known user interface where workers simply scan credentials and open doors. But as the world changes, physical security guards and teams need more options and capabilities at all entrances and gates to help keep the workplace safe and secure.
Introducing the XPIR series fixed and kiosk readers from Telaeris that can scan credentials, open doors, and so much more. More means more interactive, more intelligent, more secure, and more capabilities than traditional door readers. This is all possible with an impressive device feature set delivered through the XPressEntry software suite as the backbone of the XPIR series reader. Devices remain fully in sync with the access control system and provide new outcomes never before possible.
Identity & Permissions Verification – Verify permissions and authenticate workers and visitor credentials with any security badge and/or fingerprints against the identity information on record in the access control system.
Real-Time ENTRY / EXIT Tracking – Keep track of workers and visitors entering and exiting the workplace while remaining in sync with all activities recorded in the access control system with the latest occupancy information.
Emergency Evacuation Mustering – Ensure everyone is safely accounted for during a true emergency by positioning the XPIR as a self check-in muster station to improve evacuations, employee safety, and OSHA / regulatory compliance.
Visitor Identity & Access Management – Visitors can self-scan a driver's license or passport for ID verification, take a picture, state their business, enroll themselves as a guest, and pickup a printed badge or credential to proceed onsite.
Accurate Time & Attendance – Capture employee hours electronically and track attendance in real time to ensure that employees are onsite, paid the right number of hours, and verify invoices from subcontractors.
Fully Compatible with XPressEntry –The XPIR series devices are delivered with Telaeris' XPressEntry software. XPressEntry proudly leads the industry with the most access control integrations and includes an admin portal to view live facility occupancy, manage devices, reporting, trend analysis, and more.
Credentialed workers' photo from the identity information on record is displayed on the XPIR device screens at check-in and out providing another layer of security in public spaces where others are present. In the event that a credential is unavailable or lost, workers can still check-in and out using their fingerprint. Security managers can additionally enable multi-factor authentication to deliver enhanced identity authentication in high security areas.
An emergency can happen at any moment and making sure everyone is safely evacuated is a must. XPIR keeps continuous track of facility occupancy by monitoring the existing physical access control system (PACS) and can be positioned as a self check-in emergency mustering station. Personnel and visitors can quickly self check-in as safely evacuated. All XPressEntry devices remain in sync and the system identifies any missing people and their last recorded location to help save lives.
XPIR welcomes visitors with an easy self-enrollment process into the access control system without overburdening staff. Visitors follow the automated prompts to enter their personal information, state their business, select visitor type, take a photo, and scan a driver's license or passport for ID verification. XPIR dispenses a personalized visitor credential and enrolls / checks-in the visitor in the access control system database.
XPIR devices can be positioned on a desktop, as a standalone kiosk in a lobby or can be situated in an open workplace entrance. Alternatively, XPIR devices can be wall mounted or physically attached to other access points. Providing a broad range of identification modalities, it helps security personnel have a high degree of confidence in who is provided access to facilities. The XPIR series devices can be interconnected with a broad range of peripherals such as powered doors, turnstiles, automation equipment, and more. With output interfaces of RS-485, digital output lines, relay triggers, Wiegand, and OSDP, connecting and controlling the facility has never been easier.
XPIR devices are robust, easy to install, enabled to work in stand alone or network operation, and maintain network connectivity via cellular, WiFi, and Ethernet and can also work offline when the network is temporarily unavailable.
The XPIR series can be deployed with a variety of mounting options:
Standalone Kiosk
Desktop Station
Wall Mount
Pole Mount
Don't have a physical access control system (PACS) system onsite? No problem. XPressEntry also works as a stand-alone solution, fully managed by the XPressEntry Server. XPressEntry handheld readers validate permissions and authenticate credentials or biometrics against the identity information on record in the access control system database or XPressEntry Server from anywhere, record entries and exits where door readers are not practical or available, challenge credentials from within secured spaces, spot check permissions to deter tailgating / piggybacking, quickly muster employees during an emergency evacuation, maintain facility occupancy information, and much more.
XPressEntry handheld readers proudly lead the industry with the most access control integrations and proudly lead the industry with the broadest support for badge technologies plus biometrics.