XPressEntry with Honeywell | Enterprise Buildings Integrator (EBI)
Handheld Badge Validation and Emergency Mustering
XPressEntry and Honeywell | Enterprise Buildings Integrator
(EBI)
Telaeris XPressEntry integrates with Honeywell's
Enterprise
Buildings Integrator (EBI).  XPressEntry adds handheld access control and
emergency mustering capabilities to any compliant Honeywell | EBI system.
What does XPressEntry Provide?
XPressEntry provides two main features to Honeywell | EBI.
Handheld Access Control
Emergency Evacuation Management
Handheld Access Control
Using XPressEntry handheld devices, security guards can authenticate personnel
in Honeywell | EBI from anywhere. This might include a remote gate or the lobby of
a site. The handheld simply displays the user's name, a photo of the user, and Access Granted or
Access Denied upon the scan of a badge. All badge scans are recorded for later reporting. This can
be done in terms of simple employee validation or can audit entries into and exits from a secure
area.
Emergency Evacuation Management
XPressEntry handhelds are also used as an electronic roster for managing
employees during an emergency event. When the horns sound and it is time to move to the muster area,
safety administrators can utilize the handhelds to quickly scan all users to safety. The Handheld
Devices keep a live list of who has been scanned in safe areas and who was still in the building at
the time of the emergency or drill. This list is based on who scanned into the building that day
using the Honeywell readers.
How does it work?
XPressEntry Integrates with Honeywell using the
EBI.NET APIs. The API allows the XPressEntry Server Application to pull all
relevant access control information such as Cardholders, Badges, Pictures, Access Levels, Areas and
more. XPressEntry uses this information to determine who has access to use a specific handheld
device and who has access at any virtual doorway.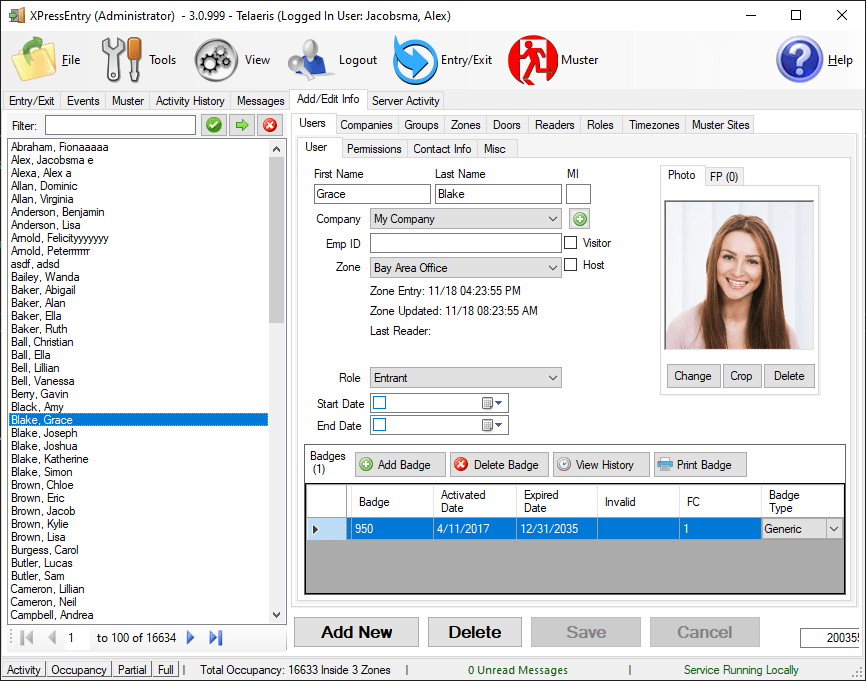 Additionally, XPressEntry Server App subscribes to the
Honeywell event watcher, which allows XPressEntry to receive all card scans that
occur in the Honeywell system. XPressEntry uses this scan information to determine who is and who is
not on site or in the facilities at any given time.
The XPressEntry Server Application sends all records of movement of cardholders to each handheld unit,
as well as updates for cardholder badges or privileges and new and deleted cardholders. Each handheld
unit stores this information locally on the device so it can do work online or offline.
Reporting and Updating the Honeywell
Information
Upon scanning in Entry/Exit or Verification modes, XPressEntry handhelds grant
or restrict access, and send the activity back to the XPressEntry server for future reporting. If
enabled, XPressEntry Server can send these activities back to the Honeywell Events
Database using a SQL Stored Procedure. The image below displays Handheld Activities that were sent
to the Honeywell Event Log.

Limitations
XPressEntry handhelds must be connected over the network in order to receive updates that occur
within Honeywell | EBI. Handhelds cannot be updated while being used in offline
mode.
There is no API function to insert scan events or activities into Honeywell |
EBI. Telaeris has built a stored procedure that can insert Handheld Scan activities
into the Honeywell Events database. However, this does not get reflected in the
Honeywell | EBI Entrance Events report, which does not pull events from the
database.
Speed
The XPressEntry Server is constantly pulling the latest Honeywell |
EBI information. The initial data sync may take significant time for large
Honeywell | EBI systems (an hour or more), but subsequent syncs take less than a
minute as XPressEntry only pulls newly updated information. Once XPressEntry Server pulls the data,
it sends new data out to all connected handhelds instantly. The time it takes for a new data entry
to move to all XPressEntry handhelds is less than a minute when the handhelds are connected.
The XPressEntry Server receives Honeywell | EBI scan events almost instantly. This
information will be pushed to a handheld device in muster mode within a few seconds or less.
Not the access control system you are looking for? View our list of Physical Access Control System (PACS)
Integrations