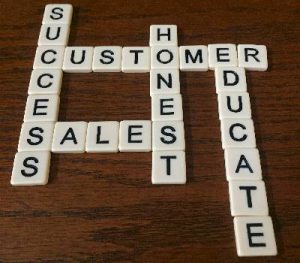 I've learned many valuable lessons from my experiences, whether I was earning my BS at Caltech, my Masters and PhD at UCSD, working in a corporate environment for ten years at Cubic Corporation, or founding my own company, Telaeris. But as I look back, I find that I learned some of my most valuable lessons during the four years I spent working at Sears & Roebuck.  
When I was 16 years old, my next-door neighbor Steve told me his boss at Sears was hiring for summer jobs. I went in for an interview and after only ten minutes, I was offered a position.   
My first job at Sears was simple – asking people to apply for a Sears credit card, and offering them a free gift if they applied. Most of my co-workers hated this job because it meant speaking to every person who passed by your booth. They preferred to stand at the CashWrap ringing up sales or restocking inventory. I dove into the credit application job wholeheartedly, speaking to everyone and anyone who walked by. I spent most of my time answering the same question: "Why would I want a Sears credit card?" I explained the ins-and-outs of how credit cards worked, emphasizing how they could make larger purchases and pay them off over time. Even if their application was denied, they would still receive a free gift!  
I worked hard and was compensated well in return during my time working at the Sears credit booth. I was eventually noticed and promoted to better commission sales jobs; first electronics, then home improvements, furniture, and finally, the most coveted job in the store, major appliances. At the time, I didn't understand why I was being promoted. In my happy-go-lucky mind, this happened to everyone who worked hard. But one day, a long-term employee educated me as to why I had the best paying part-time job at Sears. "I don't know how you do it – you sell Sears maintenance agreements better than anyone else in the store! I try so hard, but can't get close to your numbers!"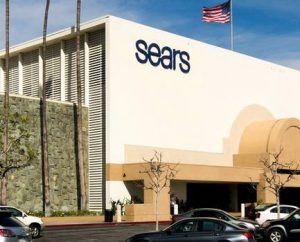 She walked me over to the employee break area and showed me that month's list of maintenance agreement sales, which ranked employees. Extended warranty sales were pure profit for Sears! Although I was only working part-time, I had been among the top performers for many months. She informed me that these maintenance agreements were driving a major competition among the full-time employees – and many of them resented my success.
For me, the interesting fact was that selling was never my intention, yet I out-performed those whose focus was to sell. Warranties for electronics and home improvements, fabric protection for furniture, and home repair services for major appliances were just optional services I presented to the customer. Many people appreciated the fact their purchase could be protected. And more often than not, I rang up the sale with a warranty or maintenance agreement attached.  
On occasion, I would overhear my co-workers trying to sell a warranty or service agreement like this:  
"Aren't you worried you might have to pay another $200 if this refrigerator fails after the first year? You should really buy this extended warranty!"  
This approach felt fear-driven and honestly a bit underhanded to me. I took pride in discovering whether or not the customer thought the maintenance agreement would provide additional security. If it did, they walked away feeling that I had taken care of them. 
---
Years later, I found myself reading an article about in-bound marketing that really resonated with me. The main point? Companies create real value for customers by providing them with unbiased information about their solution, allowing them to make an informed decision. As I reflected back on my time at Sears, this sounded very familiar. My sales approach, predicated on honesty and education, happens to be a cornerstone of the in-bound marketing movement, championed by companies like Infusionsoft and HubSpot.
---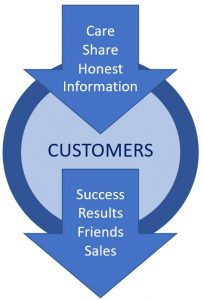 Today at Telaeris, we take an unbiased, educational approach to heart – living it every day. We pride ourselves on working with our customers to guarantee we provide them with the best solution possible.  
For example, I spoke with a potential client about a very large purchase order. As the conversation progressed and I understood his specific needs, I stopped him because I realized I had a solution that wouldn't cost him anything. He was incredulous. After I explained the solution, he thanked me profusely and promised to send any potential clients our way in the future. One of my engineers overheard this conversation and asked, "Is this really how you do business?" to which I smiled and told him, "Yes. The most important thing for us to do is to educate our customers and provide them with the best solution to meet their needs."
This culture permeates our entire business. I was proud to overhear my colleagues explaining our business strategy to potential employees, "We don't sell at Telaeris. Our job is building relationships with our clients and educating them. We want to understand their requirements and make sure they are successful in caring for their employees and customers. It is great if our solutions meet their needs, but the most important thing is to make sure we treat them as people we care about." 
Education and caring about what your customer actually need is a great way to do business – and it's a heck of a lot easier than selling!