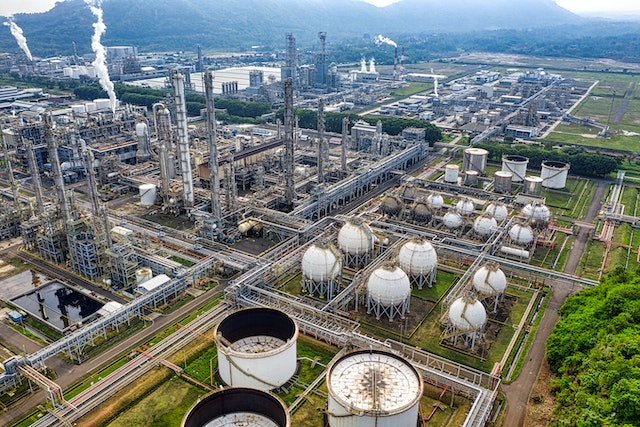 Introduction
This case study focuses on the experience of a prominent public utility holding company with international operations based in the United States. The company faced a unique challenge when constructing a new liquefied natural gas (LNG) plant in Mexico. As the construction site lacked an access control system, the company implemented XPressEntry as a stand-alone system to manage site access. Later on, when an access control system was adopted, XPressEntry was integrated to enhance the access control system and physical security onsite. 
Challenges
The construction of the LNG plant posed unique security challenges. The site was being built from the ground up, with no existing buildings or doors to work with for a traditional access control system. This created a need for a flexible system that could enroll workers into a database, control access with guards at gates, verify credentials and permissions, and track entry and exit to ensure the safety of all workers.
Solution
The company's security integrator recommended XPressEntry as a solution, citing many successful implementations at other customer facilities with existing access control systems. Despite not yet having selected a future access control system, the company required a flexible solution that could adapt to their existing infrastructure and provide reliable access control in the interim. XPressEntry handheld badge and biometric readers met all of the company's immediate needs. The system allowed for the enrollment of workers into a database, control of access at gates, verification of credentials and permissions, and tracking of entry and exit. Importantly, the solution was designed with future integration in mind, protecting the company's investment and ensuring compatibility with their future access control system.
---
XPressEntry Server:  The XPressEntry server is the admin console for the XPressEntry system that manages all aspects of the XPressEntry system including enrollment, device and user management, live data feeds, reporting, and configuring connections to more than 30 access control systems. 
XPressEntry Handheld Badge & Biometric Readers:  The XPressEntry handheld readers help security guards and teams to validate permissions and authenticate credentials or biometrics against the identity information on record in the access control system database or XPressEntry server from anywhere, record entries and exits where door readers are not practical or available, challenge credentials from within secured spaces, spot check permissions to deter tailgating / piggybacking, maintain facility occupancy information, and much more.
---
The large public utility holding company implemented 7 XPressEntry handheld badge and biometric readers from Telaeris at the new LNG project site in Mexico to fulfill these challenges. The company was able to future proof their investment because when the construction phase was complete, the company added an Avigilon Access Control Manager (ACM) access control system and integrated XPressEntry for continued use of the handheld readers.
---
Enrollment – When new workers and contractors with the appropriate certifications are enrolled in the ACM access control system and issued a security badge, that new user is automatically added to all connected XPressEntry handheld badge and biometric readers. 
Handheld Badge Verification – The large public utility holding company guards and safety monitors now have superior physical security with handheld authentication to verify identity, access permissions, and can confidently control access to any confined workspace. 
Entry / Exit Tracking – The large public utility holding company now maintains an accurate timestamp when contractors enter and exit the work areas and occupancy information at all times. Any offline recorded activities are stored locally and synced with ACM once the reader is reconnected. 
Reporting for Compliance – The XPressEntry system securely stores all entry / exit activities and attendance details in the XPressEntry server, and provides full reporting capabilities for compliance, removing the need for paper records.
Time and Attendance – Now that the large public utility holding company can maintain facility occupancy information with entry / exit tracking, it can also manage and easily track time and attendance greatly simplifying paying contractors appropriately for time on the jobsite. 
---
Benefits
XPressEntry handheld badge and biometric readers enhance ACM access control systems and deliver new convenience, flexibility, intelligence, and functionality to safety and security professionals never before possible.  
Integrates with most access control systems

Better physical security and personnel tracking

Simplified operations by removing manual work

Compliance with regulatory safety standards

Scalable and offline operation for any worksite

Reduces real risks and financial loss mitigation
Conclusion
After the implementation of XPressEntry, the large public utility holding company was able to meet their physical security needs during the construction phase and after with XPressEntry. XPressEntry enhances their new Avigilon ACM access control system helping to keep the new LNG plant safer, more safe and secure for both personnel and visitors 24/7.
XPressEntry handheld badge and biometric readers proudly lead the industry with the most access control integrations and proudly lead the industry with the broadest support for badge technologies plus biometrics.
CONTACT US to learn how XPressEntry can improve your construction site and LNG plant operations.