XPressEntry

Emergency Mustering
XPressEntry provides handheld emergency mustering solutions when safety and lives are at stake.
Key Features:
Verify all personnel and visitors are safely evacuated in an emergency.
Record and view real-time entries and exits at complex facilities.
Enroll new users and visitors on site from anywhere, anytime.
Automatically syncs all user, access, and activity data with server.
Handheld readers that support all smart/contact cards and biometrics.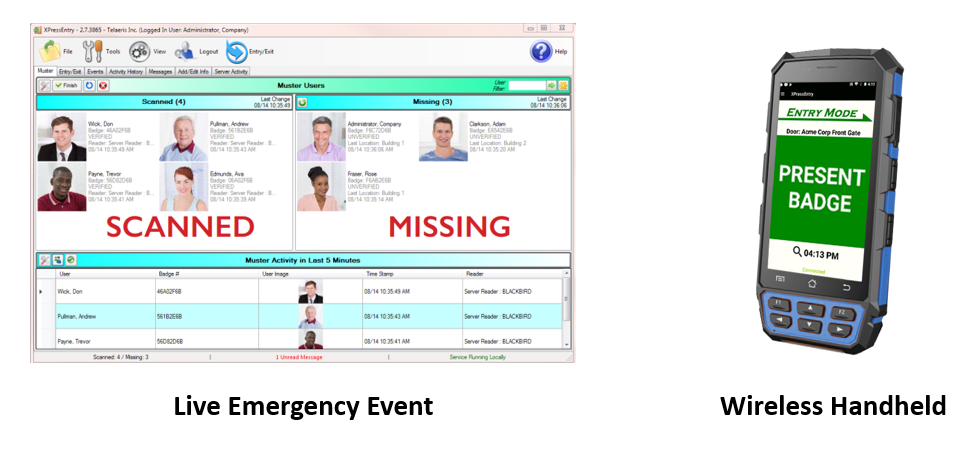 XPressEntry delivers handheld security authentication from anywhere, anytime.
Telaeris' XPressEntry is an industry leading mobile emergency mustering hardware and software solution that seamlessly integrates with world-class security systems existing at most schools, businesses, and government facilities.
Today, businesses and organizations have both ethical and legal responsibilities to take emergency preparedness more seriously. Who knows when the next disaster or crisis will hit? Imagine being able to know who is inside and outside of the facility in an emergency and be able to improve safety with a mobile mustering system when employee safety and lives are at stake.
XPressEntry is designed to provide complete access control capabilities directly from the handheld device. XPressEntry is an advanced access control software for use on any Windows Mobile or WinCE compatible handheld device. Advanced management of data is provided by the XPressEntry server component. The server provides transparent synchronization of data to and from all connected handhelds. Additionally, the server can seamlessly import data in real time from any existing access control system that a business may already utilize.