XPressEntry Confined Space Management
Confidently manage large multi-entry / exit attendant required confined spaces and reduce risks to your employees.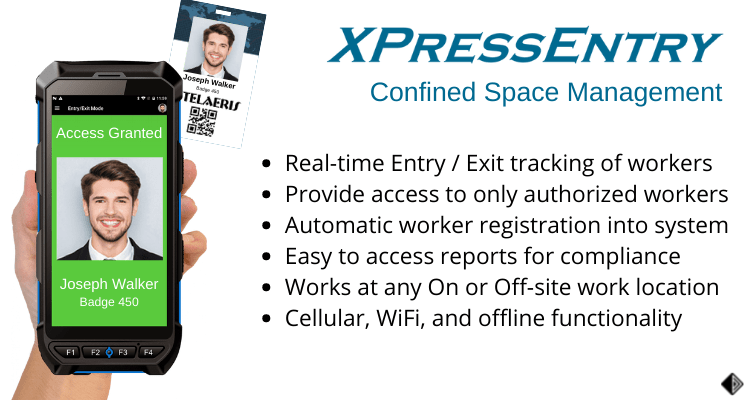 Work in confined spaces is dangerous because the work area is not designed to be continuously occupied by workers and /or life-threatening dangers exist. For example, large heat exchangers, tanks, vessels, silos, storage bins, hoppers, vaults, pits, manholes, tunnels, equipment housings, ductwork, pipelines, etc. just to name a few. Other dangers include hazardous air quality, engulfment by materials, entrapment, exposed machinery or wiring, and heat exposure. Employers are required to take these dangers seriously, establish confined space teams and safety protocols, and provide proper training to ensure worker safety.
XPressEntry is a handheld entry / exit tracking and accountability solution for large, multi-entry confined spaces that every employer with dangerous workspaces needs. It helps confined space teams use existing security badges and identity information on record in the access control system to manage access, deny access when necessary, maintain the latest occupancy information, and ensure all workers have exited safely. Upon arrival at a confined space entrance, safety professionals can use XPressEntry handhelds to scan badges or biometrics to exactly track time of entry for employees entering the confined space. Employees can exit either the same entryway or any other in the case of a large confined space with multiple points of egress. This provides complete audited entry and exit tracking documentation.

Deny access of workers based on permissions stored in the access control system, training systems, or safety certification records to keep unauthorized entrants from accessing the confined space. Manage access to confined spaces anywhere with XPressEntry's cellular, WiFi, and offline functionality delivering tremendous performance for any workspace location.
For example, one XPressEntry customer at a refinery had a ten-story heat exchanger that was shut down for routine maintenance. The turnaround crew opened up thirteen manways into the interior of the heat exchanger to allow for servicing of the unit by 200 workers. Instead of having a paper record and clipboard at each manway that generally took 30 minutes to reconcile at the end of each shift, safety attendants were provided an XPressEntry handheld. As workers were scanned on each entry and exit, the time to verify the heat exchanger was correctly cleared, dropped from 30 minutes per shift to less than 2 minutes as the system maintained continuous occupancy.
The refinery operators were able to confidently track their workers in real-time, ensuring worker safety and saving time. On the compliance side, the XPressEntry Server centralized and securely stored all confined space event details and provided easily generated reports.
XPressEntry allows your company to:
Real-time ENTRY and EXIT tracking of workers – Keep track of workers entering and exiting large, multi-hole safety attendant required confined spaces with handheld badge readers that synchronize all activity to show real time current space occupancy, length of time inside, and to be absolutely sure workers have exited safely.
Restricted access to prevent unauthorized entry – Worker credentials can be cross-validated against access control rules, appropriate site training, and safety certification to be absolutely certain only workers with appropriate permissions have access to confined spaces for accountability and to enhance worker safety.
Automatic worker registration – Workers are automatically added into the system with proper permissions as the system is tied directly into the access control database.
Easy to access reports to demonstrate compliance – The XPressEntry system securely stores all entry / exit activities and attendance details, and provides full reporting capabilities for compliance, removing the need for paper records.
Works for any size confined space, anywhere – XPressEntry handhelds badgeand biometric readers have cellular, WiFi, and offline functionality so the confined space work area can be anywhere on or off-site. Additionally, large attendant required, multi-entrant confined spaces can be easily managed with multiple readers.
XPressEntry handheld readers enhance access control systems adding functionality that helps safety and security professionals make the workplace safer and more secure. XPressEntry handheld readers verify identity and permissions with badges or biometrics, record entries / exits where door readers are not practical, quickly muster employees during an emergency evacuation, and much more. XPressEntry handhelds validate permissions and authenticate credentials against the identity information on record in the access control database and maintain facility occupancy information. XPressEntry handhelds proudly lead the industry with the most access control integrations and proudly lead the industry with the broadest support for badge technologies.
Contact us for a demo and to learn more.