A Note from the CEO
I am happy to share Safetrust's announcement and our latest integration with their Secure Virtual Credential Solutions: https://www.safetrust.com/press-releases/telaeris-integration/

Mobile credentials provide new levels of convenience and security for both employees and physical security professionals. Smartphones are one of the most secure devices available today and are less likely to be lost or forgotten by employees when compared to traditional security badges. In addition, mobile credentials can be a very cost effective alternative to security badges for security professionals. It is for these reasons why the adoption of mobile credentials is taking off and will certainly be a big part of physical security into the future.
At Telaeris, we continue to innovate and keep up with the latest industry trends. XPressEntry handheld readers proudly lead the industry with the broadest support for badge technologies and adding more and more mobile credentials. Today's Safetrust announcement reinforces our commitment to customers by offering the greatest flexibility and compatibility for current and future physical access control systems (PACS).
Thank you!
Dr. David Carta
CEO Telaeris, Inc.
NEWS
XPressEntry handheld badge and biometric readers provide any workplace with a mustering solution they need to verify that personnel and visitors are accounted for as safely evacuated during emergency situations. Here are 5 ways XPressEntry streamlines emergency evacuations in accordance with OSHA guidelines.
#5. Keep Track of Occupancy – XPressEntry is a powerful tool that maintains your latest facility occupancy by continuously monitoring your physical access control system.
#4. Flexible by Design – Emergencies are unpredictable and can force assembly sites to be moved due to unsafe conditions. Account for your people from anywhere with no additional infrastructure.
#3. Fast and Efficient – With XPressEntry, safety and security staff can quickly account for hundreds or even thousands of people in minutes.
#2. Identify Who is Missing – Check in people even if they show up to the wrong assembly point and provide first responders with the last known locations of missing people.
#1. CLICK HERE to watch our NEW one minute video to find out!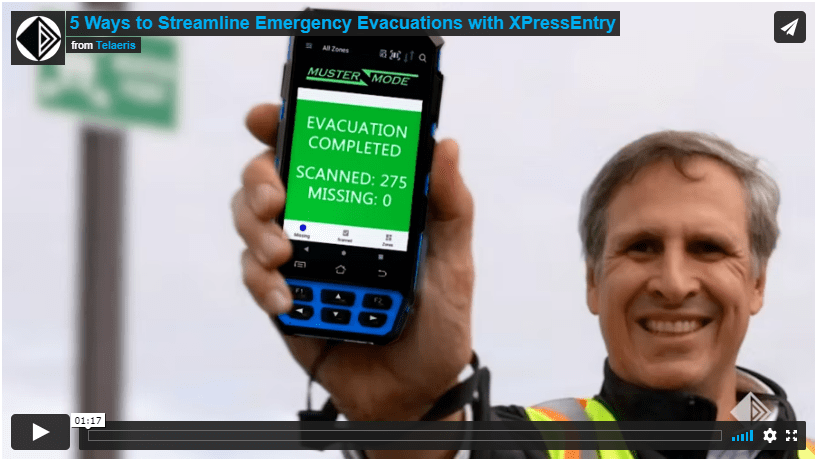 EVENTS
Telaeris is coming to a industry event near you:
GSX 2022
Booth #3513
September 12-14, 2022
Atlanta, Georgia – USA
Security Essen 2022
Booth #5G17
September 20-23, 2022
Essen – Germany
International Security Expo
Booth #A44
September 27-28, 2022
London, England – UK
Can't make it to one of these events? CONTACT US to schedule a demo anytime.