XPressEntry + PACOM | Graphical Management System (GMS)
XPressEntry is a handheld solution for PACOM | GMS access control systems.
XPressEntry handheld badge and biometric readers proudly integrate with PACOM | GMS 4.10 and newer access control systems.
What is XPressEntry?
XPressEntry handheld badge and biometric readers enhance GMS access control systems revealing new functionality that helps safety and security professionals make the workplace safer and more secure. XPressEntry handheld readers verify identity and permissions with badges or biometrics, record entries / exits where door readers are not practical, quickly muster employees during an emergency evacuation, and much more. XPressEntry handheld readers proudly lead the industry with the broadest support for badge technologies.
Handheld Badge Verification – Superior security with handheld authentication. Add XPressEntry handheld readers to GMS access control systems to confidently control access to and manage any secured space.
Emergency Evacuation Mustering – Ensure everyone is safely accounted for during a true emergency. Add XPressEntry handheld readers to GMS access control systems to improve evacuations, employee safety and OSHA compliance.
Workplace Health Screening – A healthy workplace is a productive workplace. Add XPressEntry handheld readers to GMS access control systems to pre-screen workers and deny access when necessary to help prevent the spread of illness.
Handheld Biometric Verification – Superior security with biometrics authentication. Add XPressEntry biometric multi-factor authentication to GMS access control systems to deliver enhanced identity authentication in high security areas.
Corporate Events & Training – Access management and attendance tracking solution. Add XPressEntry handhelds to GMS access control systems to use existing security badges and identity information to manage attendees and deny access.
Other Use Cases

– Entry / Exit Tracking, Time and Attendance, Confined Space Management, Bus Entry Validation, Guest / Visitor Tracking, Remote Parking, Mobile Enrollment, and more.
How does XPressEntry work?
The XPressEntry system includes:
XPressEntry Server

– XPressEntry's admin console for handheld device / system management and reporting, view access control activity and facility occupancy, and maintains a connection with any access control system. 

XPressEntry Handhelds / Clients:

  XPressEntry's clients run either on Telaeris' rugged handheld badge reading device with a built-in RFID reader for any badge technology and biometrics and maintains a connection with the XPressEntry server.  
XPressEntry integrates with the GMS access control system and pulls all relevant access control information such as cardholders, new and deleted badges, pictures, access levels, areas, and more. XPressEntry handhelds validate permissions and authenticate credentials against this identity information on record in the GMS database and maintain facility occupancy information. 
XPressEntry records all activity occurring on every handheld device or client and pushes this information to the GMS database. Simultaneously, XPressEntry pulls any new activity from the GMS database and pushes this information to all connected devices. As a result, the XPressEntry Server, connected handheld and client devices, and GMS always remain in sync. Each XPressEntry client device stores this information locally on the device so it can continue to work offline if necessary and will sync once connectivity is reestablished.
The XPressEntry Server is constantly pulling the latest GMS information. The initial data sync may take a longer time for large systems, but subsequent syncs happen very quickly as XPressEntry only pulls new and updated information. Once the XPressEntry Server pulls this data, it immediately pushes the information out to all connected XPressEntry client devices. Activities recorded on one XPressEntry client device or data updated from GMS will reach all available client devices within a few seconds.  This makes the system ideal for Emergency Mustering or ensuring that only the correct people have access to the connected client devices.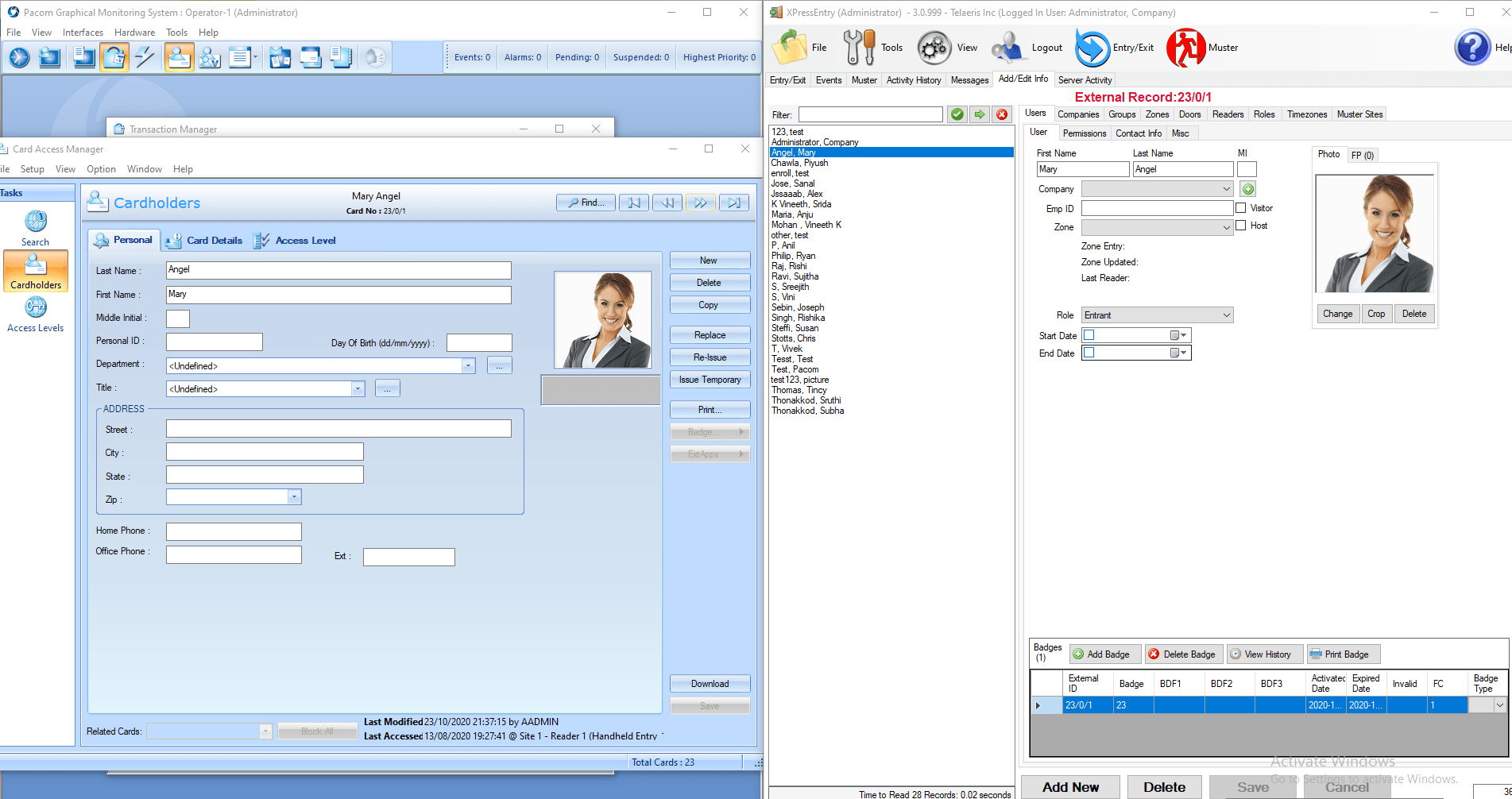 XPressEntry Server displaying cardholder data from GMS.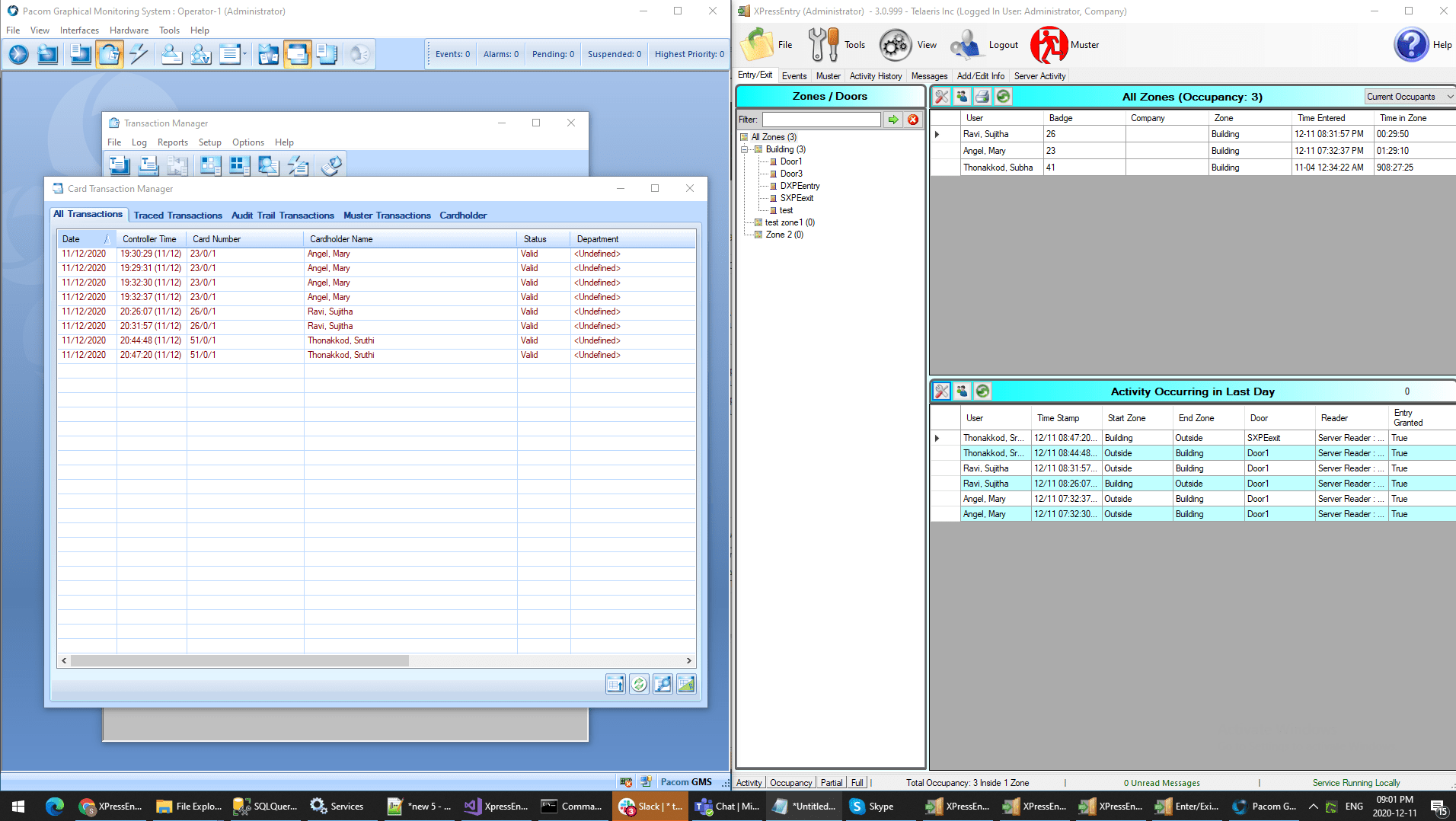 Not the access control system you are looking for? View our list of Physical Access Control System (PACS) Integrations
XPressEntry
Looking for a handheld solution for an existing access control system?