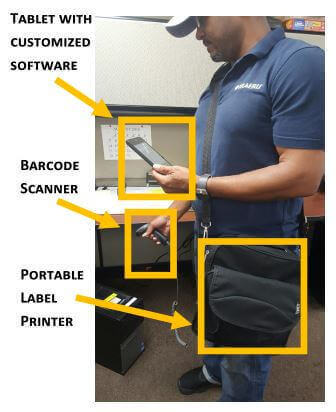 In preparation of the 2017 Office of the Under Secretary of Defense (OUSD) Financial Improvement Audit Readiness (FIAR) the Consolidated Materials Service Center required supply inventory management services to assist with garrison retail supply activities of the Marine Corps Installations West Marine Corps Base Camp Pendleton (MCIWEST—MCB CAMPEN) Base property Control Officer (BPCO) and Southwest Regional Fleet Transportation (SWRFT). Telaeris brought in technology for our on-site team which sped up the process ten-fold, while significantly reducing the preparation time and improving the accuracy of data being captured on the job sites.
Activity
Description
Before
After
Time
Savings
# per
Area
Min
Saved
Preparation of labels and equipment
30 min
15 min
15 min
1
15
Accounting for item in DPAS list
4 min
Manual locate & verify
of asset id
< 1 min
Barcode scanned &
system verifies id
3 min
500
1500
Labeling time
4 min
Go through label sheets
<1 min
Print label onsite with
mobile printer
3 min
500
1500
Missing item procedure
180 min
Mark item on list to
update later
5 min
System generates report
of items found & missing
175 min
10
1750
List verification
120 min
Manually go through
paper list
30 min
Electronically
verified
90 min
1
90
Post reporting
30 min
Manually enter report
15 min
Export & import data
15 min
1
15
Total Time Saved Per Area = 80 hours
And the new system is more accurate & provides better accountability!