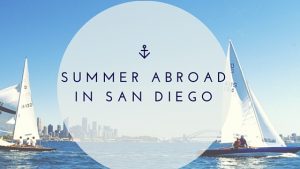 My Summer Abroad by Jennifer Miller
As a college athlete, I entered school under the impression that I would never have the opportunity to study abroad. During the summer of 2013, I was proven wrong.
At the start of June, I joined a team of four other interns at Telaeris, all of whom were somehow technically inclined: Engineers, Computer Scientists, you get the gist. As a marketer, I was truly a foreigner. I didn't own a PC, I didn't get their jokes, and I didn't even speak their language. CSS? HTML? I speak Ctrl+Alt+Del at best. But just like any other student abroad, I had to submerge myself in the culture in order to survive.
I tried working with code, failed, and then tried again until I was successfully able to put content onto a website. I tried editing with Photoshop, got laughed at, and edited again until I was able to compile a picture worthy of being printed.
By August, I was practically a new person. I had immersed myself into the tech culture. I became more rounded in my knowledge of what goes into a product and saw all the behind-the-scenes work that keeps a project in working order. And I'm a better marketer for it.
I never did try the chicken feet at the little Dim Sum place down the street, though. That was simply too much for me.