Whether you work for a large or small company, every dollar spent on marketing should count. That means utilizing what is readily available and using the right tools to be productive.
In 2010, Telaeris started using a marketing automation tool called Infusionsoft which we talked about in this post. Our goal with Infusionsoft was simple at the time. Turn website visitors into customers. The formula was straightforward. Provide useful content to the email inboxes of our potential customers on a regular basis.  In this way we were "nurturing" our customers, so when a genuine need arises, our company and products would be top-of-mind.

And it worked. One of our favorite stories was when a customer called to order our XPressTools Inventory Program. He raved about the e-mails he received from our employee "Liz" and recommended we give her a raise.  The funny thing was "Liz" had left the company some months earlier, but this customer was still on her campaign.  It was so well done, that he was unaware that it was from the system.  The power of the consistent followup was clear and powerful.
But our goal for Infusionsoft was marketing automation – not just e-mail nurturing. We attended the Infusionsoft ICON conference and engaged with one of their paid experts for 6 months.  We had committed significantly to the goal of being able to automate our marketing processes. While we received some useful information, neither paid the dividends we needed.
Additionally, the Infusionsoft platform had a number of real pain points:
Complicated – new users need significant help to get started.
Expensive – even for the basic system.
Features – available only at extra fees.
Integration – available from paid partners.
Advice – required paid "experts".
Customer service – slow or non-existent.
And even the parts that did work for us caused problems, such as when we needed to set up an email campaign for a trade show. Instead of our team focusing to create great content and marketing collateral, they would waste significant time fighting the vagaries of Infusionsoft.
Late in 2015, we received an e-mail with a slick video.
We liked the video form so much that we stole their approach to create our mustering video. Their marketing drove our marketing – imitation being the sincerest form of flattery.
But their message was also timely. After not receiving answers to our support requests multiple times from Infusionsoft, we realized we needed to

try something else.  We enrolled in Drip's free three week trial and here is what we found:
No setup fees.
Importing contacts into Drip was quick and painless.
No training or paid consultants were needed.
Fast responses from their customer support team.
Easy remote web API features.
Nice dashboards.
Less than half of what we had been paying for Infusionsoft.
Within 1 week we moved all of our campaigns to the Drip platform and migrated all of our web forms into our website running on WordPress. As an unexpected bonus, we found that we were able to import our customer lists into Drip for broadcast purposes, allowing us to send out our newsletter at no additional cost.  This allows us to keep our MailChimp account with a smaller total list count, allowing us to drop a payment tier with them as well.
So is Drip for you?  Maybe.
Drip is a great focused tool for customer nurturing.
It isn't built as a CRM (We use our own!).
It isn't meant for sending unsolicited emails (MailChimp is great for this).
But for us it did exactly what we needed – Drip Marketing. After a month, we are continuing to enjoy its simplicity and functionality.
Interestingly, we likely would have just stayed with Infusionsoft, paying their higher fees, had they been responsive. After not receiving responses to requests for a phone call for over a month – it was time to make a change. Below you can see our modification to their "perfect customer flow" which shows what they forgot.  Your existing customers are your most important customers.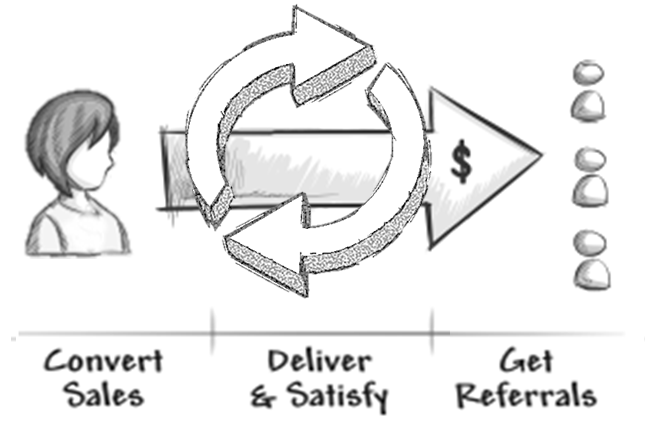 Infusionsoft does a great number of things and I personally know people who are making it sing.  But without having a certified expert on staff, I'm not sure how well it maps to small businesses these days. Drip has a fabulous laser-like focus for what we needed at a great price.
If there are any tools that you find work for you, send them along by making comments!
* We are not compensated in any way by Drip for this blog!