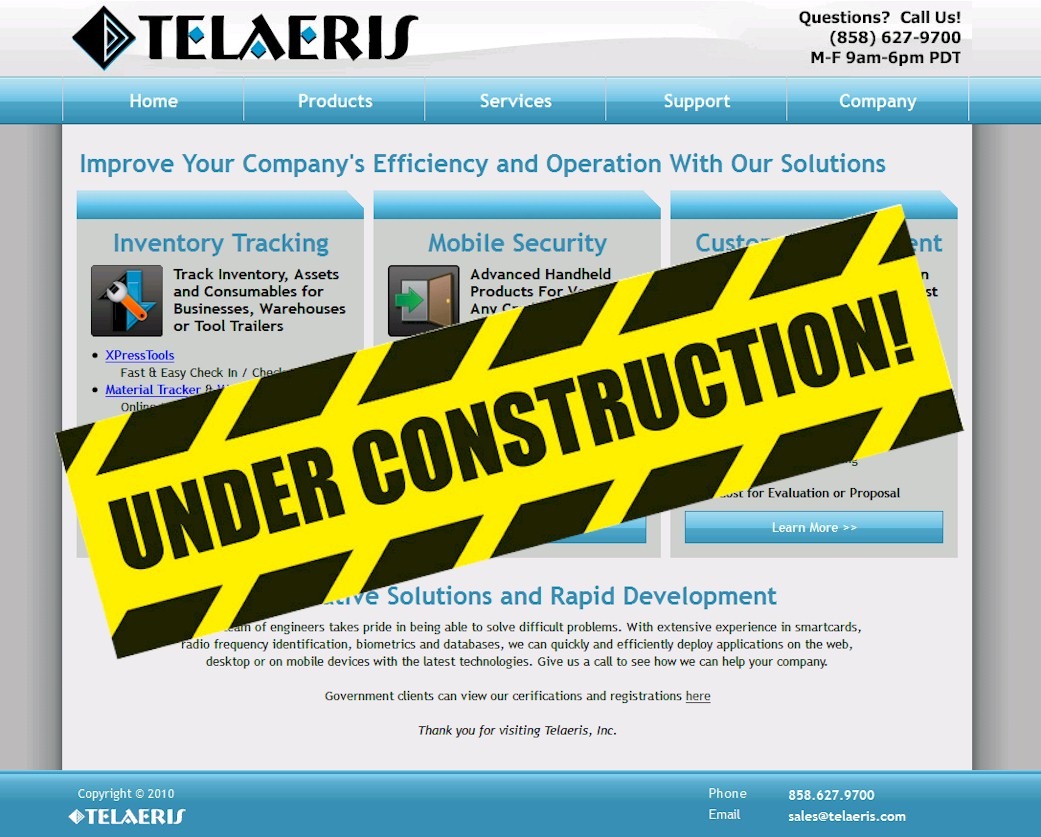 Your website might be in pretty good shape, but there is always room for improvement. Redesigning a website is no easy feat and may take you some time and money, but it will be well worth it in the end.
You may think that your current website is just fine, but I encourage everybody to make use of this free website grader. It measures everything from whether or not you are using social media to how well you're optimizing your meta data. After running Telaeris through the website grader, we agreed it was time to redesign the website (and stay tuned for the reveal!) For anyone who is considering a redesign, or anyone who is in the middle of one, here are my tips:
1) SEO, SEO, SEO. Now if you're like I was two months ago and are wondering "What the heck is SEO?" stop right here and read this first. SEO, or search engine optimization, is the process of optimizing your website in order to gain a better ranking in organic searches (not paid advertisements.) The biggest things to be aware of here are meta data, headlines, images, and linking. Search engines read information in the header of your HTML, the titles of your pages, names and alternate text of images, and who is linking to your page. Also create a "robots.txt" file in your main directory. This tells search crawlers which information to read and which to ignore. A "sitemap.xml" is also important as it tells engines which URLs in your website are searchable. Hubspot has a great free e-book that summarizes these practices.

2) Social Media. I know you put hours in setting up a Twitter, Facebook, and Blog (if you haven't shame on you), so why not put them front and center on your new website? People like knowing that you are willing to connect with them beyond the sales call. Make these buttons discreet, but central enough so visitors don't need to search to find them. Here is a sneak peak of where our social media buttons will be on our new website.

3) Browser Compatibility. When resigning your website, it is important to remember that each browser works differently. To make sure everyone will be able to view your new website properly, view it in Firefox, Chrome, Safari, and the various versions of Internet Explorer. You will notice some minor differences between the browsers and it is important to make any necessary adjustments. Here is a graph of browser-user percentages from StatCounter
4) User-Friendly. When in doubt, just KISS (keep it simple and straightforward). Better to have a simple website and give visitors easy access to information, than to have an over-designed website that is not user-friendly. Beware of using too much animation or graphics that may slow down the load time for your website. Also, Pew Internet reports that "35% of US adults own a smartphone of some kind, and one quarter of smartphone owners say that their phone is where they do most of their online browsing." Optimizing your website for mobile access will help you reach these users.
5) Tracking Tools. Knowing how effective your efforts are will help you to keep making changes and improvements even after you have launched. Be sure to install Google Analytics, it's simple and free. You can see how many people a day are viewing your site and how long they spend there.
By Liz Womack, Telaeris Marketing Analyst